Woohoo! It's Wednesday!
I'm so excited to finally get in on the What I Ate Wednesday fun!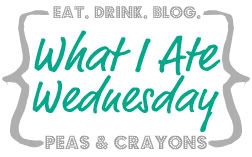 Jenn from
Peas and Crayons
puts this little virtual get together every week. People from all around the blog world link up and show off stuff they've been eating.
I absolutely LOVE snooping around to find out what all sorts of other people eat. Food porn. It's the best.
I also have a recipe for butternut squash penne at the end of this post. A healthy version of one of my
favorite meals of all time.
Let's get to it!
The GREATEST TOAST EVER + Egg scramble of 1 egg + 2 Whites + whole red pepper + spinach + grapes | PB sandwich and a banana | Pumpkin Chocolate Protein goo inspired by
this lady
| Butternut Squash Penne (recipe below!) | Glass of my
favorite wine ever
(not pictured)
This is pretty much a good representation of what I eat on a regular basis. Sometimes for breakfast I just eat a piece of toast and then a smoothie after my run. They're quick and easy. (Just like your mom... oooooo!)
I hope you'll try out this pasta. It's hearty and easy and delicious. It's also low in fat. Winning!
Butternut Squash Protein Pasta
Serves 4
3 c butternut squash, cooked and mashed
1 c cottage cheese
2 tbs butter
1 medium onion, chopped
1 tbs garlic
1 tsp salt
1/2 tsp pepper
1/2 tsp sage
1/2 box whole wheat pasta
4 oz mozzarella cheese
Cook your squash (I roasted mine in the oven at 350 until tender), mash, and set aside.
Cook pasta until al dente. Spread in the bottom of a greased 9 x 13 pan.
Take two tablespoons of butter and melt in a medium saucepan. Cook until little specks of brown appear. (brown butter!)
Using a blender (or food processor) add 1 cup of squash, cottage cheese, the browned butter, onion, and garlic and blend until a smooth sauce forms. Add the puree to the remaining squash, salt, pepper, and sage and then spread evenly over the pasta.
Top with mozzarella cheese and bake, uncovered, at 400 until cheese is melted and bubbly (approximately 35 minutes).
Be careful, this pasta is so good, you'll stuff yourself full and then fall asleep at the table.